Grisly murder that put Radlett on the map
Radlett and District Museum's latest exhibition explores a grisly murder which took place in the village two hundred years ago.
The exhibition explores what took place in Gills Hill Lane on 24 October 1823, which raised issues at the time about illegal entertainment, the power of the press, the administration of justice and the law.
Councillor Parveen Rani, Portfolio Holder for Street Scene, Parks, Leisure and Culture, said: "This latest exhibition is an interesting look at an event which took place 200 years ago and captured the public's attention at the time. There is an extensive display on all aspects of the murder with contemporary illustrations to accompany the text.
"The dedicated and enthusiastic volunteers at Radlett and District Museum are always looking for new and interesting ways to explore our village's history. The volunteers have worked hard to put together this latest exhibition. Their work is rewarded by people coming through the doors and enjoying the town's history – so why not visit?
"All four of our museums always need more volunteers, so if you're interested in joining our friendly and welcoming teams, please contact the museum you're interested in supporting."
The museum also has artefacts, documents, photographs and pictures reflecting the rich history of Radlett and the surrounding area.
The museum is situated in the garden behind the Radlett Village Institute. It is open between 10am and midday on Wednesdays and Saturdays. Admission is free.

To find out more, go to Radlett and District Museum's website: www.radlettmuseum.com.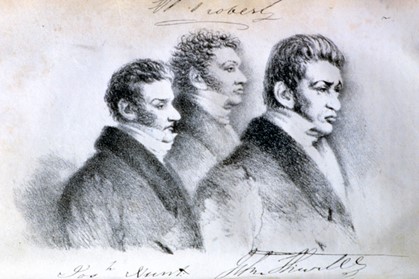 ​