Your Tree Our Future: creating a more sustainable borough through tree planting
Hertsmere Borough Council is working in partnership with Hertfordshire County Council to offer residents the chance to claim free trees as part of the 'Your Tree Our Future' scheme.
By giving residents the opportunity to plant trees, the council hopes to meet some of its sustainability aims, as tree planting has a positive impact on air quality, helps reduce the carbon in our atmosphere, supports biodiversity and can help communities adapt to the impacts of climate change. In addition, access to natural features has been linked with benefits to physical and mental health.
Councillor Seamus Quilty, Portfolio Holder for Environment, said: "We are delighted to be partnering with neighbouring authorities and Hertfordshire County Council on the Your Tree Our Future initiative and I hope Hertsmere residents take advantage of the scheme to help create a greener Hertsmere. In addition to the 10,000 trees being given away as part of the county-wide scheme this year, we are giving away an additional 4,000 trees to Hertsmere residents.
"Trees are so important to improving air quality, increasing natural habitats for our wildlife and helping to combat environmental issues, which is why we have committed to this initiative. Each tree sapling planted locally will help in the fight against climate change and will benefit local biodiversity, as well as air quality, for years to come."
Hertfordshire residents can visit www.hertfordshire.gov.uk/yourtree where they will be able to choose from a selection of eight different native species, or a hedgerow pack, which will be provided on a first come first served basis. Residents who have successfully requested a free tree will receive an email from the county council with details of how to collect them from a local pick-up point in December 2022.
The 'Your Tree Our Future' scheme was created as part of Hertfordshire County Council's Tree and Woodland Strategy, which sets out how the council will increase tree cover in the county. The project will be delivered in partnership with all ten district and borough councils.
To download a copy of the logo, please click on the image below.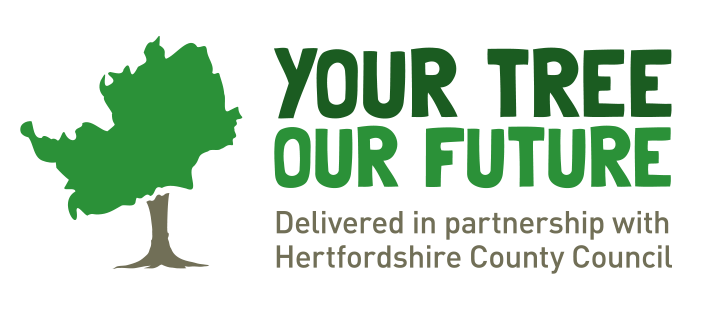 Notes to editors:
The Your Tree Our Future project will run for four years, starting in Autumn/Winter 2022 where 10,000 trees will be available. A further 30,000 trees will be available each year for the following three years.
Residents will be able to choose from eight different species, all of which have been chosen for their suitability for planting in Hertfordshire:
• Crab apple
• Field maple
• Hawthorn
• Hazel
• Hornbeam
• Rowan
• Silver birch
• Wild cherry
A limited number of hedgerow packs which include 30 trees (enough to plant 5-6 metres of hedgerow) will also be available.